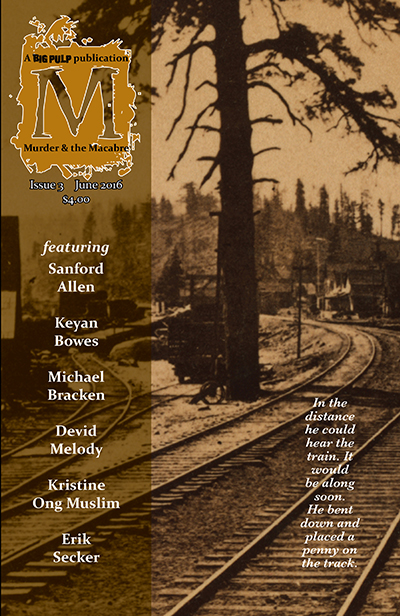 M issue #3
M issue #3 (June 2016)
28 pages
Buy it now from the Big Pulp store in ebook format.
The third issue of M, the magazine of murder, mystery, and the macabre! In this issue, M is a sharp curve on a country road and lepers on the streets of Bombay. It's a jukebox from Hell and an artist who goes to dangersous extremes.
It starts with a toddler at a hotel swimming pool.
Fiction
"For Sale" by David Melody
"Lepers" by Keyan Bowes
"Dead Things" by Michael Bracken
"Crisp" by Erik Secker
"Burma Jukebox" by Sanford Allen

Poetry
"Confessions of a Paper Doll Cutout", "The Invisible Tourists", and "In Jack's Time" by Kristine Ong Muslim