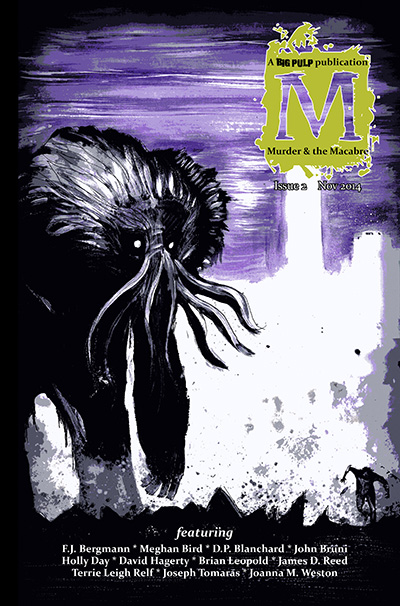 M issue #2
M issue #2 (November 2014)
48 pages
Buy it now from the Big Pulp store in hard copy or ebook.
The second issue of M, the magazine of murder, mystery, and the macabre! In this issue, M is a junkie on the run. It's a devil in the kitchen and alien stones that read your dreams. It's a medallion that opens the portal to the Mythos. M is internet porn with a bite and mint leaves crushed between your teeth. It's identity theft and card counting.
It ends with a family of veterans conditioned to hunt.
Fiction
"ForMication, With an M" by David Hagerty
"Dreamstones" by F.J. Bergmann
"Pyramid Scheme" by D.P. Blanchard
"The Medallion" by Terrie Leigh Relf
"Mint" by Meghan Bird
"Going Down" by John Bruni
"BigBucksBlowOut" by James D. Reed
"The Card Counter" by Brian Leopold
"The Jumping Frenchmen of Maine" by Joseph Tomaras

Poetry
"Button-Bright" by Holly Day
"Overnight" by Holly Day
"The Man" by Holly Day
"The Broken Window" by Joanna M. Weston
"Whose Hands" by Joanna M. Weston