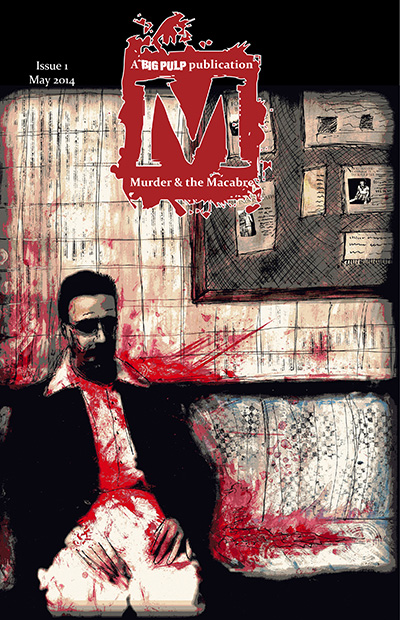 M issue 1
M #1 (May 2014)
48 pages

Buy it now from the Big Pulp store in hard copy or ebook.
The debut issue of M, the magazine of murder, mystery, and the macabre! M is a pair of cousins with a corpse in the trunk. It's the child with the gift of prophecy and the little girl whose best friend is a spider. It's a man being slowly devoured alive at the bottom of a pit. M is hunting out of season. It's a family who makes a bad deal and a woman giving birth in total darkness. It's date rape and revenge.
It starts with a man with a shotgun.
Fiction
"Shotgun Suicide" by Steve Passey
"Cover My Grave" by Helen W
"Last Evening" by Shannon Schuren
"Looking at the World from the Bottom of a Well" by Don Norum
"Willy" by Jake Walters
"Wildcraft" by Ellen Larson
"Concealed" by Katrina Ray-Saulis
"The Middle Bleed" by Steven Wolf
"Right Behind" by Philip Roberts

Poetry "Untitled" by Simon Perchik
"Untitled" by Simon Perchik
"The Amityville Realtor" by Robert Laughlin
"Solitaire" by Stephen D. Rogers
"Lifelike" by Stephen D. Rogers
"One Summer Night" by Ron Larson